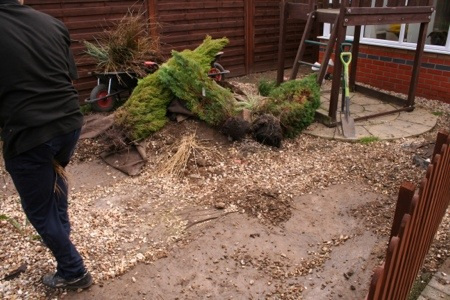 From This……
This week we embarked upon turning Mrs. Hollingsworth's Garden Nightmare into something of an Oasis. Set on the relatively new development known locally around Grimsby as Scartho Top (or colloquially as Scaffa Top) – Mr & Mrs. Hollingsworth have a very nice house with a decent sized back garden, but as with most new developments, the gardens are the last aspect of the house the builders seem to consider when building houses.
The ground was badly drained and although the previous owners probably thought that by laying the back garden most to gravel it would likely be low maintenance – how they were wrong!!! Graveled gardens can be lovely but really need to be laid with consideration as to the purpose they are meant for. Gravel can be very nice to look at and can create wonderful features in parts of gardens if used sympathetically but they are seldom ideal when pets or children are present – and definitely not laid loose.
the Hollingsworth's got in touch having seen our Facebook Page and the previous garden transformations we have carried out all over the region. We visited their garden and discussed their options, discussed how the garden was to be used and what they hoped to achieve and arrived at the conclusion of installing great quality artificial grass that would stand up to the rigors of a young family. We suggested the use of our aluminum artificial lawn edging, again due to its maintenance-free properties and expected longevity and also supplied a range of top quality plum slate chippings to create a beautifully contrasting border.
We think that the whole garden is quite simply stunning and a place for the whole family to enjoy. What do you think?
To This….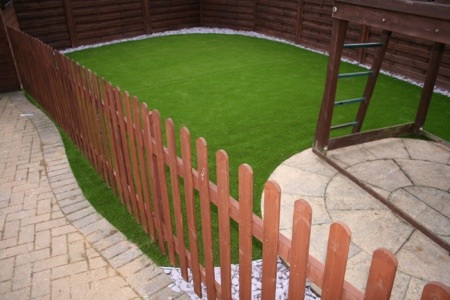 We'd like to express our thanks to the Hollingsworth's for letting us realize their garden ambitions and wish them good luck with their new baby due in a few weeks time….