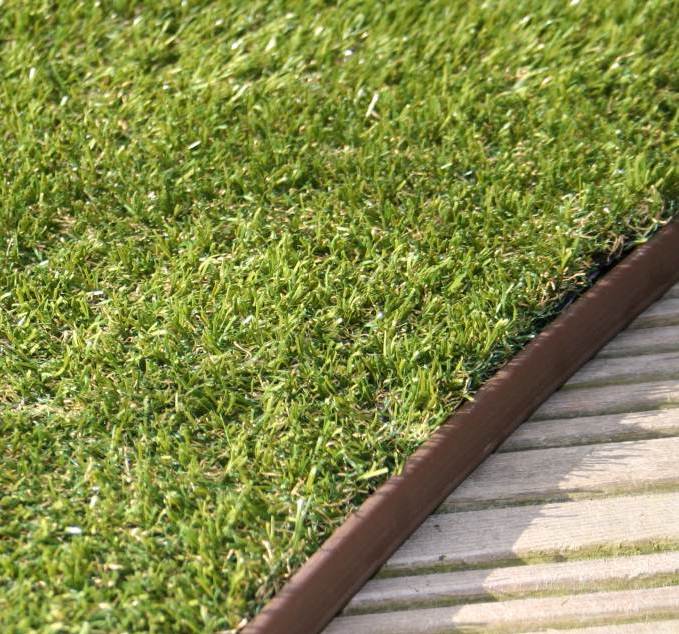 Multi Edge properties as follows:
Flexible and versatile
Will Never Rust or Rot
Can Accomodate Undulating Ground
Perfect Straight Edges or Intricate Tight Curves
Ideal for Edging Artificial Grass
Extremely Lightweight
Quick to install
No Special Tools Required to fit
Can be cut with Sharp Blade or Secateurs
Made from Recycled Materials
Multi Edge multi purpose garden and landscape edging is another product which forms part of the Unreal range of edgings. Unlike any of the other edging products currently available – Multi Edge is made using recycled plastics instead of metals.
Due to its design features – Multi Edge can cope well with undulating ground as well as flat surfaces. Multi Edge also utilises an "L" shaped profile but with a maximum upstand depth of just 20mm is a very discreet profile when installed – ideal for use with our range of artificial grass as well as real turf.
The standard colour of Multi Edge is brown to be inconspicuous when installed, and with just 20mm profile height has a wide variety of potential uses.
The base of Multi Edge is slotted for two reasons
When installed with turf the root system binds the edging into the soil
The spine can be cut which enables the edging to be flexed to form curves
Artificial Grass Staples can also be used to secure the edging in place. We recommend a minimum of 3 staples per metre of edging and more regularly where curves are to be acheived. These should be inserted through the spines of Multi Edge at a 45 degree angle for maximum security. When using Multi Edge with Artificial Grass – it can be installed either prior to laying the turf or after the turf has been cut to fit. The turf should then be bonded to the Multi Edge using special Artificial Grass Bonding Adhesive.
Multi Edge Specifications
Product
Code
Colour
Material
Piece
Length
Lengths per
Pack
Up
stand
Depth
Price
Per
Length
C511
Brown
HDPE
2 metre
12
20mm

£6.95
ME001
Bright
Steel
Steel
225mm x 9mm
Twisted Shank
20
N/A
£15.00