Well, one of this week's Garden Transformations saw us venture to Hatfield, Hertfordshire to the rescue of another young family who has recently been investing in the garden to create their own dream Garden.
The Coughlan's had already spent considerable amounts of money on a rather lovely climbing frame for the children along with some rather fabulous specimen topiary bushes and plants as well as having a beautiful deck patio area built which is perfect for entertaining. Mrs. Coughlan knew exactly what she wanted in her garden and has what some would say, the unfortunate desire to settle for nothing but exactly what she wants….
The picture below shows where they had got to with their garden before we were asked for our input….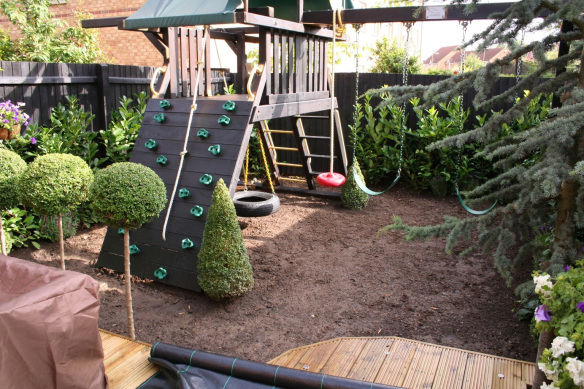 Although quite a small, urban garden – Mr & Mrs. Coughlan had managed to make the space very appealing and usable for all the family and on entering their home you couldn't help but feel they had achieved what most people are trying to do following the plethora of TV gardening shows of creating an outdoor 'room' or taking the indoors, out.
The original playground area was covered with bark chip, which is great for a while but soon becomes very messy and unpleasant with the material scattering and becoming very dirty not to mention needing continually topping up. Mrs. Coughlan had searched the Artificial Grass market and had found the grass she wanted which had the right texture and appearance but due to several circumstances beyond her control, she couldn't get the grass she wanted in time to enjoy her garden for the summer. Cue John and the Unreal Gardens crew….
As we are completely independent and not tied to any franchise or singular manufacturer/ importer or distributor of Artificial Grass, we are able to source practically any grass our customers require and usually at the right price due to the volumes we procure. We currently use around 15 varieties of Artificial Grass in our range each differing in some way from another. Just as you would find in a carpet retailer, we have swatches and samples of a wide range of grasses for our customers to come and touch and feel to make an informed choice that the grass we supply is the grass they want…
We managed to source a grass that was a match to Mrs. Coughlan's requirements and scheduled installation at our earliest convenience and the below image shows the result of what was achieved after a long, long day of hard work and perseverance….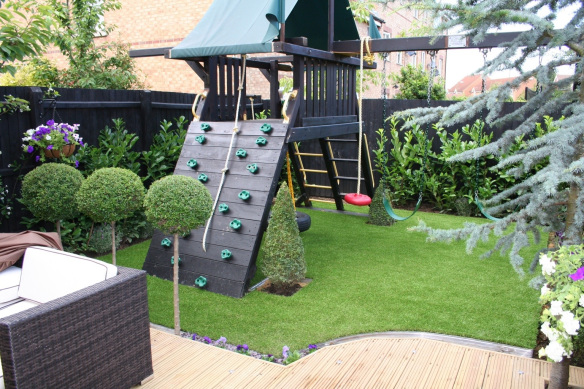 This grass is quite simply stunning and suits any garden large or small for the customer looking to achieve a realistic yet luxurious grass. We also installed our fantastic range of Artificial Grass Aluminium Edging which really sets the garden off and creates a real defining edge to the borders. We truly think this is one stunning garden and Mrs. Coughlan promised a video of the garden when it was finished…. Watch this space as they say.
Watch out for our next post on a patio transformation we will carry out later today and let us know if you'd like us to give your patio a new lease of life in the Unreal sense of the word….